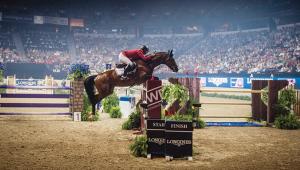 Vinton Karrasch doesn't believe in the magic of the moment. Having realized a long-held dream of contesting the World Cup Final this past April, the show jumper has had his share of magical moments, indeed. But they weren't the result of an inexplicable alignment of the fates. By way of explanation, he shares a favorite quote: "We don't rise to the occasion. We sink to our level of preparation."
He describes his show-ring successes these last few years as a direct result of how much he's internalized and acted on that message. Mental preparation has been huge for the San Diego, California-based rider. Specifically, he has shifted from focusing on the outcome and results to zeroing in on the day-to-day process of preparing himself and the horses he develops and campaigns for Gwendolyn Meyer's Coral Reef Ranch.
Vinton credits his wife and training partner, Ann, and sport psychologist Michael Lardon, M.D., with helping him cultivate a constructive, positive mental approach. He's also grateful to Gwendolyn for sharing and supporting his horse-centric approach and for creating an environment in which the Coral Reef team—horses, riders, grooms, veterinarians, etc.—has every possible tool at its disposal. As head groom Humberto Gandera Ponce puts it: "Whatever we need to do for the horses, we can do."
Vinton is a quiet guy who's maintained a low profile, yet his passion for horses, work ethic, honesty and persistence have earned a loyal fan base that includes many noted industry veterans.
"I always knew Vinton would be successful," says John Madden, FEI (International Equestrian Federation) first vice president and chair of the FEI Jumping Committee and husband and partner to Olympic gold medalist Beezie Madden. "It was just a question of what he chose to be successful in. He has the simple qualities: tremendous integrity, sticking to the basics, treating people right and putting the horses first. The natural outcome of all that is that he should be successful, and I am really happy for him."
Into the Limelight
Winning a mid-season World Cup qualifier in the fall of 2013 with the sole clear round aboard Coral Reef Baloufino was the first major milestone in Vinton's current ascent. He finished seventh in the West Coast League standings that year and started the next season with a bang: victory at the league's opening qualifier at Thunderbird Show Park in Langley, British Columbia, in August 2014. With the now 10-year-old Westphalian stallion Coral Reef Follow Me II, Vinton finished the league just five points shy of locking in a spot at the Longines FEI World Cup™ Jumping Final in Las Vegas. That position went to Susan Artes, but when she withdrew after the last qualifier, Vinton was more than ready to step up.
It was the first international championship for the 46-year-old and Follow Me, aka "Rudy," and Vinton is pleased with their 22nd-place finish. A "few minor tweaks" in round three on the final day, Vinton says, would likely have put them into the last round of 16. The feeling that Rudy was fresh and fit enough for another round validated Vinton's horse-management approach going into the event, further boosting his confidence for the future.
This season's goal is qualifying for the Longines FEI World Cup™ Jumping Final in Gothenburg, Sweden, in March 2016 and doing well enough at it to earn consideration for a 2016 Olympic team berth. As Vinton prepared for the start of the World Cup qualifying competitions in mid-August, he was candid in explaining the mind-set that's helped him get to a place best described as "living the dream."
"I'd been a very results-oriented person for a long time and that didn't help me at all," he says. Several years of dramatically inconsistent results triggered some soul-searching, including stretches when he wasn't sure that sticking with show jumping was the right path.
Starting Out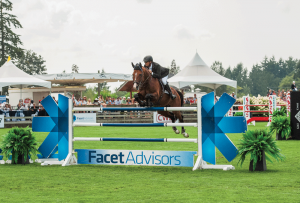 Vinton's first coach, Julie Winkel, of Maplewood Stables in his native Reno, Nevada, recalls him as someone who "cared so very much about being good" that it worked against him. "His level of confidence was never great and, in the beginning, it took a lot to get him to believe in himself." High intelligence and an analytical nature weren't always allies either. "As a rider, that can sometimes play against you because you tend to overanalyze things," Julie says.
Vinton had zero interest in horses as a pre-teen. After watching his sister, Jennifer, take lessons from Julie for a few years, he first rode at 14. The die was cast. Despite the relatively late start, within two years Vinton was doing well in hunters and equitation and earned a spot on the Zone 10 Young Riders jumping squad in 1988.
College away from home was his mom's order, so Vinton settled on Drew University, in Madison, New Jersey, partly because it was close to George Morris' Hunterdon. Julie had arranged for her student to become one of the last young riders George would take under his wing.
The East Coast was an eye-opener for Vinton. Watching Michael Matz, Katie Prudent, Anne Kursinski and the like "made me realize how far I had to go," he says. "The horses, the riders—everything was just better." He ended up leaving college to pursue a career with horses and became a working student for Anne. Under her tutelage, he did a lot of grunt work and added Anne's Jimmy Williams-influenced methods to his knowledge base.
Described by friends as a keen observer and one who absorbs lessons from many settings, Vinton began to notice early on that some riders seemed hardwired with constructive mental outlooks. He recalls a 1992 European Young Riders tour with now German Olympian Meredith Michaels Beerbaum and equitation star Ray Texel, led by George Morris. "One by one we were all falling off," recalls Vinton, who was "way too green to be there."
Eventually, Ray fell off, too, but when teased about it, he insisted he hadn't fallen off. "He said, 'I didn't fall. I landed on my feet!'" Vinton shares. "Mentally, he could just do that."
It was a lesson Vinton would come back to later in his career.
Bumps in the Road
Vinton spent several years working to make a name for himself as a rider and trainer. At one point, he became discouraged by his erratic results and a little down on the sport and left it to pursue another dream: becoming a marine-mammal trainer, specifically to work with killer whales.
At SeaWorld in San Diego, he met and later married one of the theme park's head trainers, Shauna Corrin, an expert in using positive-reinforcement behavior modification, often called "clicker training." He was away from horses for a time, then the couple decided to introduce their techniques to the horse world through On Target Training.
On the side, Vinton was riding a little for California grand prix rider Hap Hansen and doing part-time administrative work with the Blenheim EquiSports show-management team. The year was 2001, when the company staged America's first outdoor CSI-A in San Juan Capistrano. John Madden was a co-organizer and he and Vinton re-established a friendship started when Vinton rode with George Morris.
"For several years, John used to give me a good punch in the shoulder every time we saw each other at shows," Vinton recalls of the beginning of what's become an ongoing professional relationship and friendship with John and Beezie Madden. The Maddens were intrigued by the clicker training and invited the Karrasches to develop the work with horses at their farm in Cazenovia, New York. The clicker training was successful, most famously helping Judgement overcome his disdain for water obstacles.
Through this friendship, Vinton got another memorable lesson in the power of a positive outlook, this time from Beezie at the 2004 Olympics in Athens, Greece. As the anchor rider, she and Authentic needed a clean round to secure team gold. There was debate whether to tell Beezie that reality, but somebody did and her immediate response, to Vinton's continued amazement, was "Oh good! We still have a chance."
Vinton's reaction would have been much different. "I would have been saying, 'Oh, don't screw it up. Don't let your team down. Don't let your country down! All focused on the results."
The Coral Reef Crew
Vinton returned to Southern California in the mid-90s after his marriage ended and later began working for Blenheim Equi-Sports Show Manager Stephanie Wheeler. Current U.S. Equestrian Federation Coach Robert Ridland was (and still is) Blenheim Equisport's equestrian partner. He was also teaching Gwendolyn and riding her horses, which were privately stabled next to the show venue and office.
Vinton was first hired by Gwendolyn in 2000 to use clicker training on a horse with issues going on the exercise walker. Next, he was asked to ride a few of her horses. That led eventually to putting Vinton in charge of the entire Coral Reef enterprise in 2006: training and riding its horses; managing the San Diego ranch; and coaching Gwendolyn, an accomplished amateur jumper rider, and her daughter, Genevieve, now 17 and competing in the 1.2- to 1.45-meter classes with firm aspirations for grand prix.
Gwendolyn says Vinton has transformed Coral Reef's horses, riders and approach to the sport with a system that's rooted in clear processes for development and starting with the basics.
Treating horses right is a Coral Reef tenet. "It's important to me to support people who understand and make a priority of doing right by the horse and of teaching others to do that," explains Gwendolyn. Her idea of horsemanship has shifted to the thinking that "the most important thing is to develop a process and system" of training that results in consistent application of and response to aids, no matter who's riding which horse.
That sense of process extends to all aspects of Gwendolyn's and Vinton's relationship. "There is no subject that we can't confront and work through, thanks to Vinton being an extraordinary coach and partner who understands and explains things down to the minute details."
Coral Reef was first established to support Gwendolyn's and her children's riding goals. She had not known of Vinton's competitive hopes at the outset of their relationship 15 years ago but offered to support them when she learned of them. "He is so much about everybody else, he would never ask for it," she notes, adding that she is grateful for his unique mix of horse sense and professionalism in assembling and managing the Coral Reef team. Supporting Vinton's international ambitions has "pulled us all up," she adds. "Seeing how it's done and being a part of it has helped us all."
For his part, Vinton has continued to learn and grow. From the experiences with Ray Texel and Beezie, he believed his mental outlook was holding him back, but he doubted whether it was a change he could make. Then about five years ago, he decided he needed to try. Research led him to sport psychologist Dr. Lardon (author of Mastering Golf's Mental Game and Finding Your Zone), who's helped him make the shift to emphasizing process over results.
"For example, looking ahead [to the first World Cup qualifier in Langley], if I think, 'I hope I can win again,' that's focusing on the result and that makes me nervous." Instead, heading out to school Rudy in San Diego a week before shipping to Thunderbird, Vinton focused on the details of their preparation. For Rudy, it was working on his tendency to drift right in the air over fences. For Vinton, it was relaxing his hip flexors so he could stick with Rudy's jump bet
Another big help in Vinton's effort toward positive thinking was meeting Ann Knight, a Utah native who worked at Blenheim Farms coaching young rider Katie Brandes. The two married in 2009. Asked about her part in Vinton's mental shift, Ann, an important part of the Coral Reef Team who increasingly is becoming competition for him in the big ring, laughingly admits, "Yes, that's kind of who I am. I've learned how to help him get in a better state. He's a bit of a perfectionist at heart, and I try to remind him it's not about being perfect. It's about doing what you need to do and taking what comes."
In addition to improving his mental state, Vinton is also continually learning his craft. He drew recent insight while eavesdropping on a Bernie Traurig clinic. "He was talking about how we know forward from our American Forward Riding System and we know collection through dressage, and what we need is connection," Vinton relays. He thinks of the concept as "no slop in the linkage," envisioning a chain of connection that is neither too tense nor too relaxed and that maintains contact whether galloping flat-out through jump-off timers, holding to a delicate vertical or any scenario in between.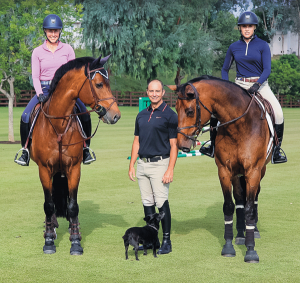 Vinton also will be heading east to improve. Though he thinks the West Coast show circuit has come far, there is still more competition on the East Coast. That's why his plan, last winter and this coming winter, includes 12 weeks at the Winter Equestrian Festival in Florida, where fields of 100-plus contenders vie for spots in each week's big grand prix.
Vinton's and Ann's growth versus fixed mind-set is well reflected in Gwendolyn's daughter, Genevieve, a high-school senior who is searching for a suitcase large enough to pack Vinton and Ann away with her when she goes to college next fall. "Their emphasis on the process has made an unbelievable difference for me," says Genevieve, who won the ASPCA Maclay Regional Finals West in September. "It's helped me to open up and take in information as I'm riding." It's the difference between "riding the course and riding the horse," she says. It means focusing less on where the striding or jumps are and more on where her horse is in terms of responsiveness and stride elasticity and, of course, in relation to each challenge on course.
With Vinton's hard work as a trainer and rider, seeing him come full circle has been a joy for his original coach, Julie Winkel. "I am super proud of him. Not just because he made it to the World Cup Final but because he has worked so hard and there's been so many bumps in the road, but he never lost sight of those goals," she says. "To see him going in with the attitude that he was going to enjoy every second of it, rather than, 'Oh my god, I need to win!' was just great."
– By Kim Miller for Practical Horseman Magazine –