Landing in the Pacific Northwest in May of this year, Vinton and Ann Karrasch have opened the doors for their new venture, Equestrian Performance.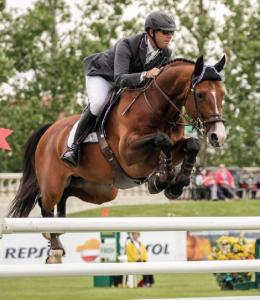 When looking for the right spot to start their new business, and not at all certain where they wanted to go, Tammy Chipko, owner of Shelburne Farms in Redmond, Washington, asked them to come for a visit. With large indoor and outdoor arenas, paddocks, 12 x 12 stalls and all the amenities, the fabulous facility is less than 30 minutes from Seattle and Bellevue. After living in southern California for over a decade, neither Vinton, originally from Reno, or Ann, from Salt Lake City, had spent much time in Washington state.
Of all the places they were considering, Shelburne and Seattle seemed to call their names. After some serious consideration, they headed north. Definitely a win-win, Tammy Chipko asked them to coach her a bit at home and at shows while they settle into their new surroundings and build their business.
From Calgary to Wellington, both Vinton and Ann have earned a list of accolades. Together they ran a private barn for a decade, and have emerged with a host of knowledge they look forward to bringing to Equestrian Performance.
HORSE & STYLE: What was your first impression of Redmond, WA?
VINTON KARRASCH: I love the Northwest. The feeling is amazing here, it's a very organic kind of place. Everything is green and everything grows.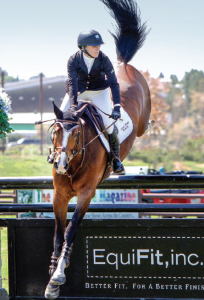 ANN KARRASCH: I'm excited to plant roots here and see how big we can grow. I look forward to getting to know the shows, the people and to helping make Zone 9 a force to be reckoned with.
H&S: Tell us about your history in horses, the early years.
VK: I didn't start riding until I was about 14. After two years of going to the barn with my sister while she took lessons, I decided to try it. We lived in Reno, and I rode with Julie Winkel at Maplewood Stables. By my last junior year, I was competing in the Big Eq and at Young Riders. I won Team Silver at NAJYRC on the way back east to college.
AK: My family owned a barn in Salt Lake City, Utah, so I grew up on horses. Actually from the time I could walk I was obsessed with them. I would spend hours leading Carl, the school horse, around the barn. When my mom would tell me he needed to eat, I would put him away and then watch him eat every morning and evening.
My first pony was a half-arab that I taught to jump. She had all sorts of tricks. My brothers and I rode all the horses we could find in the pastures around Salt Lake. We learned a lot and rode all types. And along the way we made and sold some nice ponies and horses. I am really grateful for the opportunities I had back then; my parents always kept me riding.
H&S: Both of you have worked outside of hunter/jumpers, tell us a bit about that experience?
VK: After working with George Morris and Anne Kursinski, I started my own business. I was young and it was all a bit overwhelming, so I decided to pursue my interest in training dolphins and ended up at Seaworld in San Diego. I met Shawna Corrin, a Seaworld trainer, who knew Clicker Training well and had an interest in horses. We started to collaborate and in the process connected with my friend John Madden who asked us to come up to Cazenovia (NY) to practice our methods on their horses. We developed a system called 'On Target Training' and it was really successful. Probably the best known success in our niche is getting Beezie's horse Judgement to jump the water. After using On Target Training he ended up winning the Derby at Spruce Meadows which was quite an accomplishment for a horse who started out not wanting to jump the water. After our time with John and Beezie, we had made a professional instructional video, then went on the road and gave demonstrations and clinics.
When Shawna and I parted ways, I was back in CA and once again John Madden asked me to work with him. This time with Blenheim EquiSports, producing a CSI4* and Olympic Qualifier. I learned a lot about running top level show jumping events. And while I was there, I was asked to do some Clicker Training on horses at EquiSports International. That got me back in the barn and back in the saddle, and I met Ann.
AK: I decided it was time for a change from the show world when I was 18, so I went to the racetrack, which took me from Utah to California. I worked at the track from 3 a.m – 7 a.m., and then got a 'day' job riding for Mike Edrick.
The racetrack education taught me the importance of soundness and good feet. Taking care of the horses from the hoof up made a lot of sense to me. And how to ride forward – you definitely had to be comfortable with going forward!
For a few years I split my time between the hunter-jumpers and the racetrack. Then I started at Blenheim Farms where I helped Cassandra Karazissis train Katie Brandes and her horses. That is where I met Vinton.
H&S: So how did you meet?
VK: I met Ann the first day I stepped into the barn at EquiSports International in 2002, and then she left for Ohio. I was living in the apartment at the barn, but when Ann returned from Ohio I got kicked out of my apartment! So that was how I knew her initially – the woman who kicked me out. Over time we got to be friends, everyone there did, even though she was working with Blenheim Farms and I was working with EquiSports International.
We went to work for a private client together in 2006, and had started dating. We got married in 2009.
We work well together, our personalities balance each other out – I'm a perfectionist and she is level-headed, but we both love creating a program that works.
AK: In the beginning, he scared me. He worked at the show office before the barn, and I didn't like it when I worked with him in the show office. He's a very structured man – likes things to go smoothly, no changes when everything is in place. But Katie (Brandes) was always changing her mind about what classes she would show in, and I would have to go to the office to do the adds and scratches. He would give me the worst look every time I walked in.
Then he started riding at the barn. So I thought we should try to become friends. But every time I would talk to him, I would always get one word answers. 'Yup' or 'Nope.' I would ask a bunch of questions and got nothing more than one word so I gave up.
Then one day he started coming into the barn yelling my name – 'HI ANN,' so I was confused. He said 'You stopped talking to me.' So that broke the ice. I was married at the time and he was seeing someone. But everyone at the barn got along and all became good friends.
H&S: What are some of the best lessons you've learned over the years?
VK: Every aspect has taught me invaluable lessons. And between figuring out how to ride as a teenager, to riding on the East Coast to creating On Target Training with Shawna to working in horse show management to developing and managing the program at Coral Reef Ranch with Ann, I have a tremendous collection of experience.
Over the years one of my best lessons is the sport psychology work I did. I was always so hard on myself, and I had to learn about the psychology behind it in order to realize my potential. I look forward to sharing that knowledge!
AK: By developing our own program, we learned about treating each horse as an individual. When we came to Coral Reef, we started Genevieve on a lunge line, then to the pony rings, to horses, it was a successful journey. When I got the bug for showing again, I was able to take some young horses to the grand prix level. An amazing experience.
I learned about the value of a program and a horse being in a program. How important each step of the process is, in training a horse and a rider. Each step ties in and makes you a well-rounded rider, competitor and person. The process helps you deal with horses and with life.
H&S: What are your plans for Equestrian Performance?
VK & AK: We started working with Tammy at Thunderbird in early June. Her young horse Ekina won the Seven Year Old Maplebrook Challenge. And her client Julianna Ball earned Reserve Champion in the 1.20 Junior/Amateur Division. Plus Ann went double clean on Santanita LS.
Along with teaching and training, we are planning cool clinics. Clicker training, sport psychology, clinicians like Beezie.
Shelburne is such a great facility, we love the turnout and trails. And it has all the amenities for quality care.
We would love Equestrian Performance to be an educational experience that helps people fulfill their equestrian dreams. The Northwest has such a calming feeling – it feels like a healthy start to our new venture.
– From Horse & Style Magazine, July/August 2016 issue –