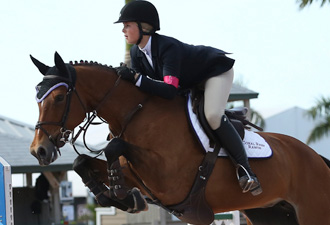 "I feel extremely lucky to be able to say that I began my career in showjumping with the guidance of Ann and Vinton; I also feel that I owe much of my success to them. It's very rare to find a barn that is successful in every ring: hunter, jumper, and equitation; however, Ann and Vinton aren't normal trainers. They helped me to thrive in each ring, whether it be winning the ASPCA Maclay regionals or a top 10 finish in the Grand Prix at Thunderbird.
Like most athletes and coaches, we sat down every year to discuss our short and long term goals, and from day one, I told them that I want to be the best rider in the world, and I want to go to the Olympics; and from day one, instead of telling me that my dreams were unattainable, they said: "okay, here are the steps we will take to get you there."
Our goal in the hunters and equitation was never to be the best hunter/ equitation rider out there; we had a much bigger plan that extended past what those disciplines could offer me. I mean, of course I really wanted to win finals, but we more used them to help me become the best jumper rider I could be. My hunter career was short lived; I never really liked doing the hunters, but Ann and Vinton insisted that it would help me improve my rhythm and accuracy, which they weren't wrong… But as soon as they felt I learned the skill set adequately, the closest I came to the hunters was the WIHS Hunter Phase. Similarly to the hunters, we used the equitation to develop my connection with the horses and smoothness throughout the course to benefit my career in the jumper rings, however unlike the hunters, I did enjoy the equitation. The equitation classes also helped me develop the skill to excel under pressure, which is more of a mental skill than a physical one. As Vinton has put a lot of time and work in developing his mental performance, he has been particularly influential in this aspect of my career. He would set up exercises at home that would require me to ride through pressure and distractions, he recommend sports psychology books to me, we would analyze my mindset, and him and Ann helped me learn how to control my mindset. In fact, the morning before Maclay Regionals in 2015, I was in tears because I felt I couldn't figure out how to canter, or trot for that matter, a circle; I was making an oval… Ann came to me and said: "G, you either need to change your mindset or scratch from regionals because you're not being fair to Cruise in this mindset." With that being said, her and Vinton helped me turn myself around, and I ended up winning Regionals later that night. It took me years to acquire that skill; I've worked with other top equitation and jumper trainers, and I can tell you with certainty that none of them, would put such a priority on an athletes mental game; however the physical aspect is only half of the sport. As McLain Ward said to Horse Network, "when things aren't going as well [sports psychology] gives you a set of skills to fall back on and get you through those difficult times quicker."
And finally, I can't begin to describe the impact that Ann and Vinton have had on my jumper career. I still remember my first jumper class on my little paint mare; I thought I was flying… I had 3 time faults… Throughout the years, they taught me how to transfer the connection and smoothness from the equitation into the jumper ring with the added factors of speed and height. It is very rare for someone to work with the same people throughout almost their entire junior career, as I did with Ann and Vinton, but I wouldn't have had it any way. Some of the highlights to my jumper career while working with Ann and Vinton include: competing for zone 10 at Prix Des States, a top 10 finish in the Grand Prix at Thunderbird, being a contributing member of the winning team for the 1.40 meter Prix Des Nations at Spruce Meadows, and a top 5 finish in the 1.45 meter High Junior Classic at the Winter Equestrian Festival.
Furthermore, unlike most trainers, they didn't just teach me about the athletic aspect of the sport. They made sure to put an emphasis on the horsemanship aspect; a part of the sport that is often forgotten. Growing up, I would come to the barn after school, and my ponies weren't made ready for me by a groom or by them, it was my responsibility to groom and tack my ponies up. Over the summers, we would have "camps" where me and a friend would be in charged of every aspect of taking care of our ponies and horses, Ann and Vinton would set it up so that we would get lessons from the vet and farrier to learn about shoeing, soundness, and overall health of the horse. They taught me work ethic and instilled in me that the horse's well being comes first. To this day I take pride in being involved with my horses on the ground, and I can't say that I would understand the importance of developing a relationship with my horses on the ground and being involved in my horses daily program if it hadn't been for Ann and Vinton."
– Genevieve Meyer, Coral Reef Ranch
---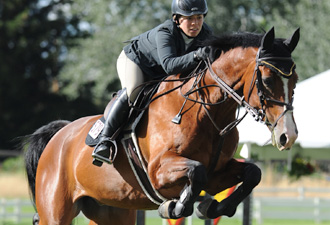 "Training with Ann and Vinton has changed the way I approach each ride, in and out of the show ring. From the excellent daily care and conditioning my horse receives, to their detailed and demanding training, I trust them with absolutely every aspect of care and training. Their commitment to their horses and clients is evident in every part of their business. They don't have a one-size-fits-all approach, but rather work with each individual horse and rider pair to fully understand their goals and needs and help build a plan to long-term success. Not only are they amazing trainers, but they are genuinely good people. I look forward to every day at the barn and never hesitate to call or text. They have taught me to demand more from myself and more from my horse, raising my standards and my abilities more than I thought possible in just a few short months. I feel incredibly lucky to train with them and hopefully they are happy to have me, because I can confidently say now that I am here, they are stuck with me for years to come."
– Kate Shurtleff
---
"I have ridden and jumped horses most of my adult life and besides my work as a veterinarian, riding is a major passion as well as therapy for me. As most equestrians know, riding can be both fun and frustrating, with fits and starts, and I have had some good people along the way who have helped me with my riding; but I have always wanted to move to a higher level where I and my horse performed better and were more 'in sync'. So I was so very pleased when the Karrasch's decided to relocate to the NW. I have been riding and had my horses in training with them for the past year. I have admired their depth of knowledge in riding, training, understanding and caring for horses and it is like none I have ever encountered in the horse world. In their hardworking and committed way, they help the rider 'dig down' and accomplish way more than you thought you could do and the same is true for your horse. The accomplishments come slowly over time – they kinda sneak up on you and one day you say 'Wow'!! Ann and Vinton Karrasch are two very knowledgeable and talented people with high standards and who ask as much from themselves as they do of their students and their horses. And they are there for you….when your horse is sick or broken….or you are sick or broken…when things go well or not so well, inevitable in this activity. They understand the frustrations that accompany this sport that can also give much joy. I continue to consider it an honor and privilege to work with Vinton and Ann Karrasch."
– Lillian Maggio-Price
---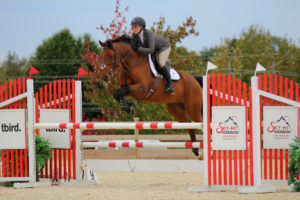 "Ann and Vinton Karrasch provide what is absolutely missing from the Pacific Northwest- true, competitive-training excellence for horse and rider with the objective of getting both performing at our best, all while maintaining a professional and personable environment. It's not about the ribbons or winning; it's about reaching our goals and challenging ourselves to do the possible. As an amateur riding a young horse that Ann and Vinton found for me, WT Lightyear, they are improving our game everyday. And boy, are we having fun re-entering the show ring after a 18 year hiatus! I can't wait to see what next year as in store for us."
– Alex Falconi
---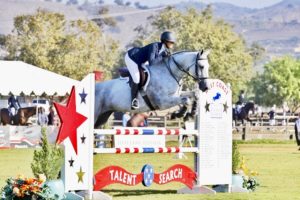 "Riding with Ann and Vinton at Equestrian Performance has been nothing short of amazing. Their riding program is like no other; they teach you how to improve your riding in addition to horsemanship and life skills. My absolute favorite thing about Equestrian Performance is that they teach and reward hard work. Being a working student, I'm around them all the time and it is so refreshing to see that they are such authentic and honest people with nothing but good intentions for their clients. Additionally, my riding has taken a turn for the better in their program. One of my personal riding goals for the season was to compete at Maclay regionals, (which I had never done before) and to possibly show in a talent search class at the end of the season. I not only qualified and had a successful round at Maclay regionals, but was also one of the few to qualify for west coast Talent Search Finals in San Juan Capistrano. I'm am forever thankful for what they have done for me as a rider and a person in only 6 months! This truly is just the beginning and I'm excited to see what we can do in the future!"
– Olivia Hernandez
---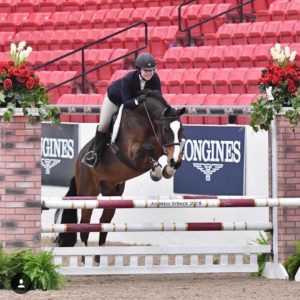 "Ann and Vinton not only showcase exceptional riding and horsemanship, but they also have the unique ability to design an educational environment in which both horse and rider flourish. Their program is focused on confidence, correct riding and the "mental game"- a combination which has no parallel. I have left every single lesson with Ann and Vinton feeling more capable than the last, always feeling the improvement in both my horse and myself. They have also matched me with a horse that, within a matter of a couple months, has given me an incredible amount of confidence. With him and the guidance of Ann and Vinton, athletic goals seem not only achievable but inevitable! Equestrian Performance is the epitome of coaching excellence, and and I couldn't be more grateful to have the opportunity to learn under their guidance."
– Cassie Minicucci
---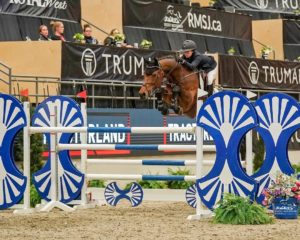 "Vinton and Ann have completely changed my perspective on the sport. Their program is second to none! I feel the difference in my riding and in my horses. Their combined expertise from the ground up teaches horsemanship, sportsmanship and how to handle the mental aspects of the ride."
– McKenna Norris