Ann grew up with horses. Her family owned a farm in Salt Lake City, Utah, and her mother taught riding lessons. She was in the barn as soon as she could walk, and at age 3, though still too young to ride, her mom allowed her to lead Carl, the school horse; thrilled, she spent hours walking him around.
Finally, at age 5 she started riding on a little Western pony. She wanted him to jump, but clearly she wanted it more than he did. He would drop a shoulder and she'd tumble off – over and over. As she got older, she and her brothers would bring the ponies out of the pasture, get them going, and the family would sell them. She's grateful for a childhood that gave her the opportunity to learn how to ride every horse.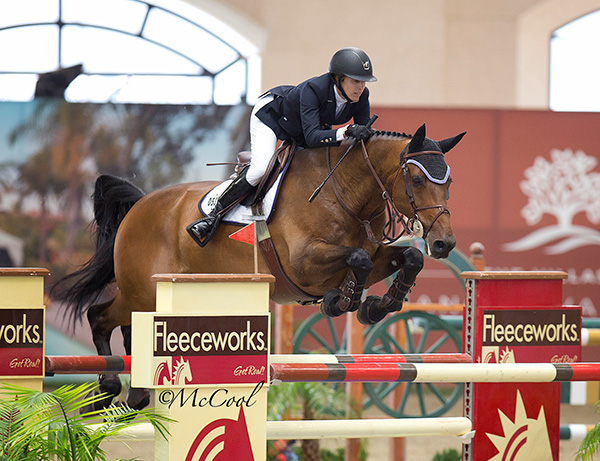 By the time she was a teenager, she was ready for a change from the show ring, and though she left the farm, she couldn't leave horses. She went to work at the racetrack, where she broke yearlings and prepared them for the 2-year-old sale at Pomona. The racetrack taught her the importance of sound legs and good feet – taking care of the horses from the hoof up, which made sense to her.
She met her first husband at the track, and moved with him to California soon after her 18th birthday. Spending nearly all of her waking hours with horses, she would work with her husband at the track from 3:00am – 7:00am, then go to her 'day job' riding for Mike Edrick Stables.
While riding hunter/jumpers for Edrick, she fell in love with the training aspect, so she left the racetrack. But she had a fall, sustaining an injury, and not wanting to be a burden to Edrick, she went back to the track while recovering. Cassandra Karazissis, with whom she had worked with at Edrick's barn, called her about an assistant trainer job at Brandes Farm (Robert and Hillary Ridland), and Ann accepted. It was during her tenure at Brandes Farm (and Blenheim Equisports, of which Ridland was president), that she met Vinton.
Also while at Brandes, she formed a friendship with Gwendolyn Meyer, who told Ann to get in touch with her if she ever needed a job. In 2006, Ann and Vinton went to Coral Reef Farm and began a successful ten-year run.
At Coral Reef, there was no real program for the horses, so she and Vinton developed one, put it into place, and managed it day to day. Ann respected the kindness with which Meyer treated her horses, and appreciated the opportunity to work at the top level of the horse show world. She and Vinton were the personal trainers for Genevieve Meyer. Ann's goal is to continue to work with juniors.